Books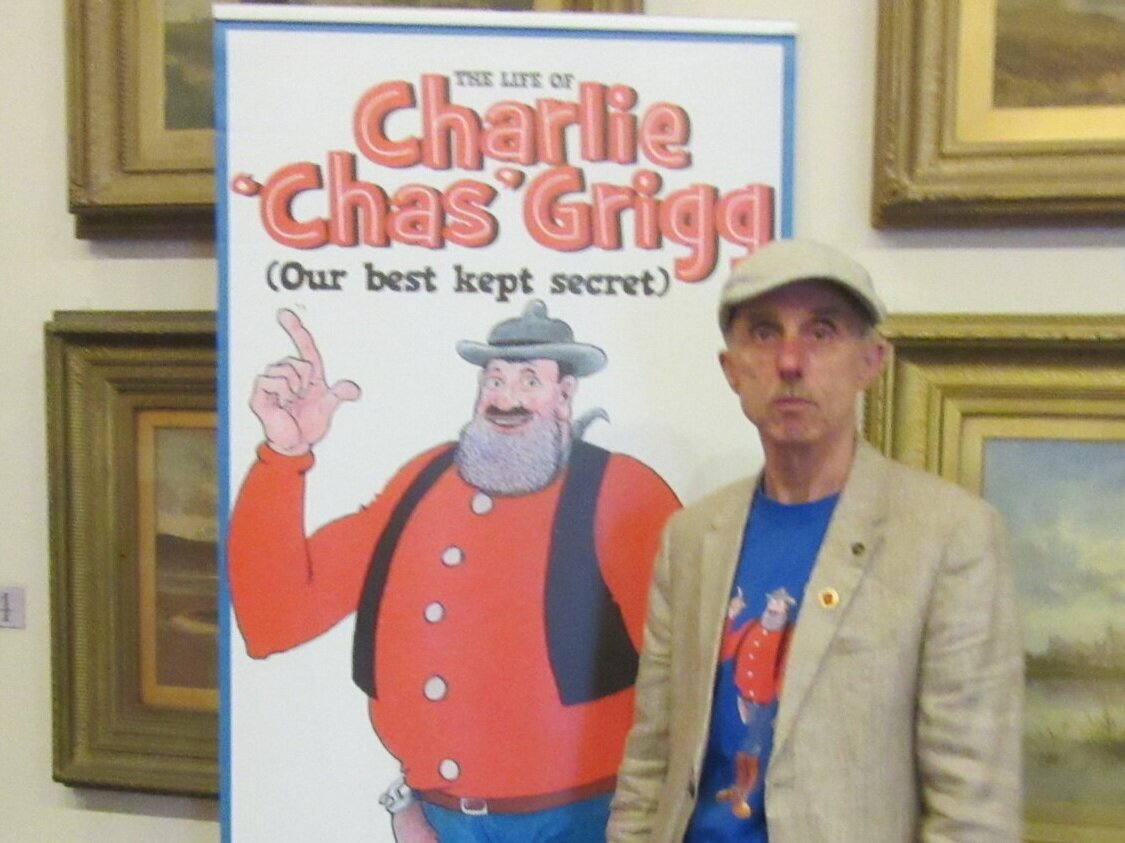 The Life of Charlie 'Chas' Grigg
This book has been a labour of love and a journey of discovery . I used to pass the house where Charlie drew the cartoons that i would read on a Saturday after using my pocket money to buy them from Barclays paper 'shap' at the bottom of Grafton Road Oldbury. Little did i know 60 years plus later i'd be writing about the life of that very man that gave me and millions of others such wonderful heroes/ and heroines to become in our childhood years. The 'Ostel where we played was where we took page into reality. Charlie Grigg his life and work.
Charlie and the Magic Pen
Bravest Wench I 'No' an' Groove Wench
I suppose the job of creating pieces out of memories or ideas from other peoples memories is a bit like a beachcomber of a walking up and down the sand looking for surprises. Often you never know where the idea comes from. Why a particular memory is unlocked or why maybe while reading, listening or looking at something that has nothing to do with the Black Country a theme arrives that sets off a train of thought for a new piece. For those who don't know, The Bravest Wench I know and Groove Wench is what my late wife Susie and her soul mate Donna were known as and collectively they were The Broad Street Babes… (See more)
Little Bigguns An Big Littl'ns (F' Babby's only)
The title of this book came from a short story written by a bloke called Kanyer Wackett or to give him his real name Walter C. Hackett who was the big boss of Accles and Pollock the steelworks in Oldbury, where most of my family worked. I've written loads of dialect stories, novels, poems, and lyrics mostly based on my experiences growing up in Oldbury, but I've always wanted to write for babbys… (See more)
From the Coal 'ole (Lift the latch an Fill y' shuvul)
Without RoosterSpake this volume of stories would not have been made possible. The people I have met by being involved in the organisation with Lozz has enabled me I hope to develop as a writer. Fro years Lozz has headed projects that have involved working with local writers, singers, musicians, actors and everyone have contributed to the continual learning process I carry out when watching them. Each one has immense talent an' brings their craft to the fore in different ways… (See more)
Billy United
Brian Dakin has been performing as Billy Spakemon since the 1990s, driven by his vision of promoting the language, the spake, of his forebears and his beloved Black Country. In 2001 the Kates Hill Press published his first collection Chant of the Mutha Tung. Two more volumes followed, Yor Yow Shurrup a Minit Billy, and Tummy Jones Odebry Mon... (See more)
Echoes of Foiano Di Valfortore
1955:
Foiana Di Valfortore, a backwater in the Italian province of Benevento, where men toil in fields on picturesque hilsides to eek out a living.
Oldbury, in the heart of the Black Country, where men toiled night and day in smoky factories to maintain the post war boom. (See more)